Bouygues Construction
Automation of Labor Contracts​
​​Bouygues Travaux Publics, world leader in the construction of engineering structures, road, port and rail infrastructures worldwide​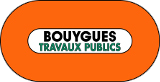 This project, initiated by the Group's Human Resources Department, is part of a productivity and quality objective and concerns the generation of contracts, endorsements and work certificates.
The HR Department produces a large number of contracts in around fifteen versions (for Managers, Technicians and Compagnons) and variants (CDI, CDD, day or hour packages, etc.), amendments and certificates.
The objective was therefore to replace Word and all its inherent risks of manipulation with an automated, easy-to-use application based on secure reference files.
" We needed a tool capable of freeing the HR assistants of the various group entities from time-consuming Word formatting tasks with no added value."
"The aim was to simplify the task of HR assistants as much as possible while ensuring that any new contract was based on the latest updated version of the reference model. We were therefore looking for a collaborative automation solution to save time while ensuring the security of source items and document compliance."
Calenco has made it possible to simplify the entry of information through a Web application with a home page to access the different entry forms for each type of document: contract, amendment, certificate.
The application was developed in 3 weeks and the automation of the layout allowed for the elimination of unproductive manual tasks.
An Administrator has the access rights to maintain the contractual content, the business repositories, the name and contact details of the agencies, the signatory and the contact details of the various social and health funds, etc.
Relieved of layout problems, users only enter content via forms with input fields, check boxes and drop-down lists, in order to select options.
Calenco automatically archives forms for later modifications. The layout of the PDF document is automated. No more risk of errors or omissions.
In addition, the application is collaborative by allowing you to work from anywhere and share the lists of the latest forms and documents produced in the event of absence or replacement.
| | | |
| --- | --- | --- |
| | Before | With Calenco |
| Average time to complete a contract | 1 hour | 5 minutes |
| Layout | Manual and heterogeneous | Automatic |
| Number of users involved | 2 or 3 | 1 only |
| Job | Individual and file exchange | Centralized collaborative platform |
The proposed solution with Calenco integrates into the existing process and IT system, while remaining transparent to users.