Installation manuals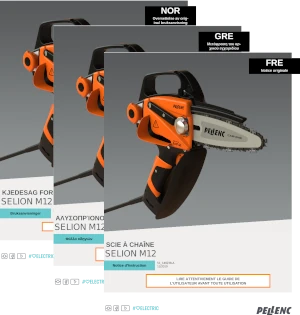 Leader Company: NeoDoc
Partner company(ies): Word Class
Customer name: Pellenc SA
Requesting department: Documentation & training division
Area of business: Agricultural equipment
Length of project: In operation since 2018
Users of the solution (end users): Technical writers, graphic artists and technicians

Customer needs:

Content reuse
Multilanguage translation of user guides
Automation of documents
Services offered:

Calenco software for technical writing and Calenco translator for translation
Support in implementing and personalising the solution
Outsourced translation
The genesis of the project: The Pellenc company had been drawing up technical manuals for many years using desktop publishing software InDesign. As export markets account for a significant portion of sales, technical manuals were translated, and InDesign enabled the generation of a single PDF containing all of the languages in word-for-word translations.
However, this system ended up illustrating its limits with the increase in the number of products, variations and languages. First, for readers of the PDFs who had first to select their chosen language. But, in particular, for the Pellenc documentation division. The translation process became increasingly labour intensive as the slightest change required a complete update of the layout, to ensure that the placing of each text segment was compatible with all of the different language versions. In addition, it was fastidious to carry out changes relative to a range of machines to the technical manuals for each individual machine. This generated huge additional writing, translation and desktop publishing costs owing to the extensive product range.
Indeed, visibility on the translation budget was very low, because it was difficult to check the calculations of the translation agencies.
Solution found:

Given the industrial backdrop, it was clear that a structured writing solution would address many of the issues encountered:

A modular approach enabled automatic adjustment of technical changes to all of the impacted machines.
Automatic layout changes meant that additional costs related to layout and translation could be avoided.

In addition, the use of an integrated translation tool enabled Pellenc to regain control of the translation process:

The shared translation memory enabled Pellenc to play an active role in reviewing translations.
The word counter tool enabled close monitoring of the exact budget for translation for each change in the original version.

Resources allocated (number and function - internal or customer resource):

Pellenc SA The head of the documentation & training department and a graphics artist for implementation, all of the department for training in use of the tool and the production of instruction manuals.
At NeoDoc: a project manager and a developer for the design of the style sheet and migration of existing documents.
At Word Class : a project manager for the implementation of the translation tool.

Required workgroups/workshops: Analysis of documentation, training on Calenco software and style sheets.

Tools used:

Calenco
Calenco Translator
SVG Editor
Costs (ROI):

Automating PDF editing to avoid wasting time with manual editing;
Optimizing and reducing time spent to focus on the content and not style, by offering automatic style models;
Easy creation by mere assembly of pre-existing modules
Document range selection thanks to logical filtering by product, version, end-user type;

Deadline:

More than 50% of reduction in writing time;
Reuse of more than 80% of existing updated content.

Quality:

Standardization of structure and graphic charter for all documents regardless of the writer;
Ensuring compliance with the propagation of changes and updates to all related documentation;
Ensuring standardized application of the graphic and style charter for all documents produced.

Security:

Reliability of information;
Close to 60 manuals and workshop information sheets managed in terms of technical writing and translation
Very large number of communication and marketing documents
Translated in 26 languages
61% cost savings in translation
30% time saved in technical writing
6 working days to deliver a 170-page document in five languages