The Calenco Web input form
The Calenco Web input form
Designing a complete document based on a Web input form
Who hasn't dreamt of being able to design an original document, hundreds of pages long, in a few clicks, using a simple Web input form?
Calenco Web input forms generator solution allows just that. It is the most secure and the simplest method for producing strategic company documents in a decentralized, autonomous fashion.
For any type of standard document
Contracts : maintenance, sales, human resources, partnerships, etc.
Customized technical documents : using a generic document, create documentation on demand for a specific product, with its variations and options.
Standard statements and correspondence of any sort.

quality publications
For any type of specific documents
Customized employment contract to edit in-office, with specific clauses based on hiring criteria, avoiding back-and-forth by mail with the HR department at headquarters to approve the text.
Customized business proposal in a few clicks based on the customer's specific requirements or the salesperson's advice, without the risk of error that comes with traditional copy/paste, and without having to concern yourself with layout, which will be done automatically, respecting the company's charter.
Maintenance reportcarried out and automatically sent to headquarters using data entered on a tablet in the field while in offline mode. The maintenance technician follows the Web form created by the maintenance department based on key equipment checkpoints. It has an empty space to use if necessary. All of the data is uploaded in real time and analyzed for technical maintenance.
The Calenco Web input form: A simple and safe solution!
This Web input form relies on XML technology to automatically include selected content (text, tables, diagrams...), which is filtered based on the data entered.
The more time wasted searching through the sea of files for the right element, the greater the risk of error.

It's about an inclusion and not "copy/paste": Reusable strategic content is stored in a single source (single sourcing), its double appears in the document. When the department authorized to modify the document updates it, it is automatically modified in all of the related models.

Deploying and using the material is fast.

Simpler and more powerful than desktop publishing solutions.

The returns on investment (ROI) measured at our customers are simply…. ENORMOUS!
The Web input form, with integration of refined content selection that is always up-to-date, is the simplest and most secure solution offered by NeoDoc for "decentralized" and autonomous input in the field, with no particular knowledge of computers necessary.
The Web input form generator: Do It Yourself!
To take full advantage of this tool and customize it according to HR or legal contracts, markets for business proposals, monitoring points for the technical department or financial reports, it is important that the NeoDoc solution administrator is autonomous in order to create appropriate forms without calling on external departments.
This is why NeoDoc developed an easy-to-use Web input form generator. The addition of graphic form fields makes the NeoDoc application fun: no code to write! The administrator "draws" his form, programming analysis of the data and searching content is done automatically.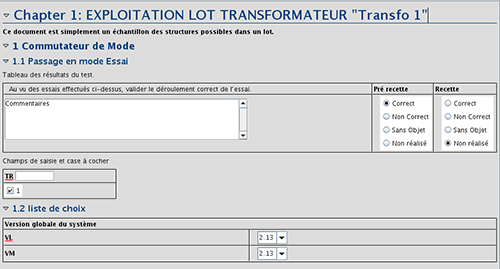 Web entry form (tele-declaration type)
Simplicity and effectiveness are what make this NeoDoc tool so popular with our customers.