Writing tool for teaching
Writing tool for teaching
Teacher Version Application
This teacher version of the writing tool for training relies on the technology of Calenco, byNeoDocto give middle school and high school teachers a new writing tool that is adapted to today's communication and organization methods.
There are many platforms to support students during their school years. Students are attracted to digital instructional methods that reflect their communication mode and their environment. For their part, teachers are having more trouble motivating their students with traditional teaching media. Many of them are using their own personal time on the computer, creating attractive lessons that continue to motivate their students. Faced with the growth of e-learning startups financed by venture capital, it's becoming a lopsided battle for teaching staff, who must continue to motivate students with current resources.

Entrepreneur-at-heart Didier La Posta, and secondary school teacher Chantal Annon, who spent evenings and weekends preparing classes on her computer, thought about a platform that was intended exclusively for grammar school and secondary school teachers to use while preparing their classes, with today's digital tools, accessible without specific computing knowledge.
Digital education for teachers: To free teachers from technical restrictions and allow them to focus on enhancing their classes and motivating students in the digital environment that they hold dear.
For teachers consulted on this project, this was still just a dream, the government could not fund such a project.
The director, without waiting for government assistance, reached out to the NeoDoc company to develop an intuitive writing platform for classes and interactive animation on the Teacher Version space.
​Key points of the "Version Professeur​" application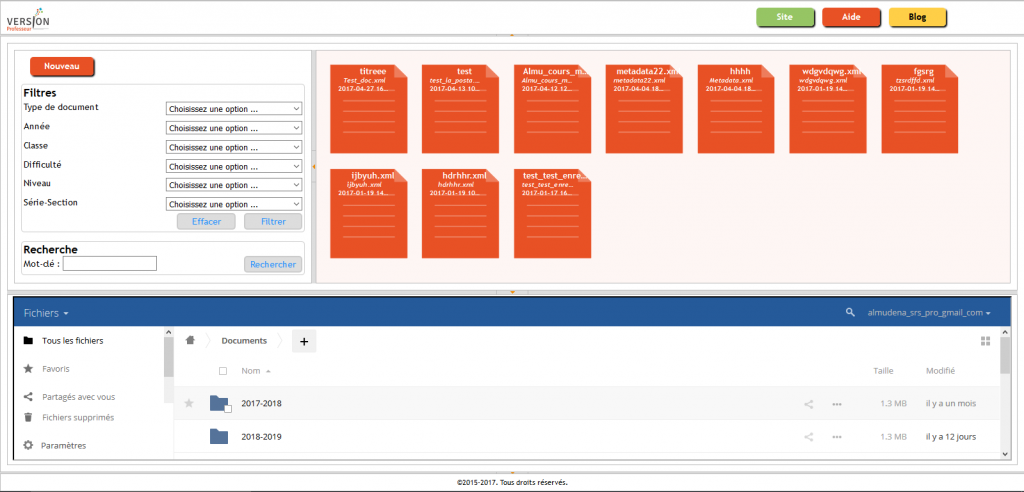 Teacher Version Application: a writing tool for training
Assembling classes upon demand by dragging/dropping reusable class modules, no more copy/paste;

Simple class updates;

Mathematical formulas publisher;

Automatic class customization based on the students' level;

Construction of interactive classes with automatic grading;

Classes are automatically available in PDF and Web formats;

Classes are available in Teacher and Student version (filtered);

Discussion link to classes for students.
With simple fee of 5 € a month, the teacher has a set of simple-to-use tools that will free up precious time that he can then devote to the quality of his teaching and his relationship with his students.