Your message has been sent successfully.
Your message has been sent successfully.
Your message was sent to the Calenco team. One of our consultants will contact you shortly by email or telephone to provide you with answers.
Thank you for your interest in the business document 4.0 writing and dissemination solution.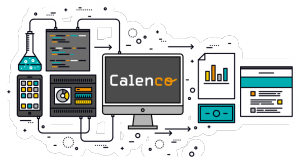 In a communication world that is increasingly fast-moving, multilingual, and disseminated on various media (PDF, Web, Mobile), it is vital for companies to ensure the documents they publish are updated and of high quality.
On the other hand, it is important to be objective about the actual way in which strategic business content is produced.
More than 80% of companies and communities use Word-type word processing or an open-source equivalent.
With word processing, 50% of writing time is spent on the document's layout or in the search for content in various folders, to be re-used via "copy-and-paste".
We are talking about time spent by engineers, lawyers, marketers, sales staff, trainers, etc.
Seamless, consistent quality for strategic business documents. Corporate charter is maintained
Rapid production of strategic documents. Timeliness of availability
Significant gains in productivity. Some clients see up to 3 times more volume processed in the same period of time.
Enrich your strategic content assets: optimized re-use of your content
Simple and effective classification of your content using "

drag-and-drop

" tags.
Automatic updating of your documents using single source content
Multilingual translationwith no time lost in file exchanges
​