Don't keep you technical writer hidden away
Don't keep you technical writer hidden away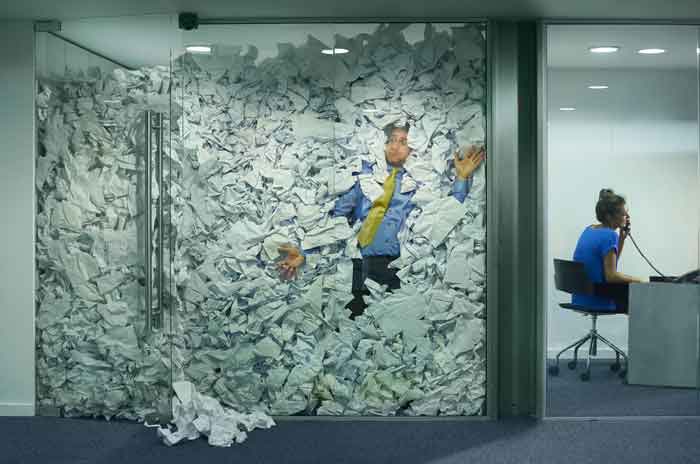 The technical writer is at the heart of your business!
Don't put your technical writer on a shelf... This might surprise you. Everyone agrees that technical documentation is very important, thatit is part of the product, software, or service. Quality and regulation oblige: no marketing can be done without appropriate instructions for use.
Sales professionals, product and marketing managers, will all rush to add that the instruction manual is an integral part of the product and constitutes a sales support.
For its part, the after-sale department will notice that it reduces the number of calls for assistance and limits returns.
It makes marketing the product possible, boosts sales and solidifies customer relations. So why is there this feeling of "being on the shelf" within the profession? Let's look more closely at the reality of this document production, which in many companies is quite substantial.
Although it is strategic, many companies do not pay any attention to it.
A key role at each step of the life of a product
Very often, products and services are designed without input by the technical writer. However, he should act as the link between technical design, commercial presentation or marketing, and use by the end customer. Budgets and deadlines for production, marketing and sales are determined in advance. Technical writing is set aside, left until later, seen as an obligation without any real added value, something to worry about when the product is launched on the market.
How to correlate production and writing of technical documents?
No need for statistics, it's easy to see: in general, production of technical documents is seen as a bottleneck, the source of delays in product launches and/or poor sales. The resulting tensions explain the disenchantment with this step.
To remedy this situation, companies often turn to temporary workers or engineering service providers.
But is this really a solution? Or simply a way to ignore the underlying problem.
The quality of technical documentation is becoming increasingly important to product strategy. Methods of accessing technical product information have changed. The consumer does not hesitate to read the technical documentation before purchasing.
Let's say that technical documentation is a marketing element and is an integral part of the product strategy.
So, why isolate the technical writer and not place him at the center of this communication?
In companies where the technical writer has been truly integrated, he is the one who coordinates the team, sometimes directing them, based on his responsibilities. He is able to transform a the production and quality of a company's documentation.
What about technical writing tools?
Whether a company employee, temporary worker or service provider, he must work with the company's automation tools.
Most of the time, this is limited to word processing software such as Word, which was seen as the replacement for the typewriter forty years ago...
In the best case, he could use Framemaker, which is still a complex software application and does not allow for structuring of the document.
Software applications to enhance productivity
To increase their productivity and competitiveness, companies are equipping themselves with powerful software for their various departments: accounting/management, marketing, production, logistics...
If the company executives are equipped with Word, Excel or Access, adequate until recently for their occupations, today they all use EPRs, CRMs, GPAO... So why not also endow technical writers with powerful tools to facilitate their task and improve their productivity? It's customary to think that a document should be written using Word or an equivalent word processor. Obtaining the desired result is just a question of training in and handling of the tool.
That does not show much regard for this profession, which adds value to the product, and it ignores current technology in document production! With Word, you can write texts and produce work that is seemingly equivalent. But how long will it take you? How many "nightmares" for the layout? How many useless duplications of the same content, errors or omissions with each update or during dreaded "copy/paste"... And lastly, at what cost?
It's undeniable that companies gain productivity and document security if they equip their technical writers with powerful, easy-to-use technical writing software. And accessible solutions exist...
In addition, return on investment will be quick and significant
XML technology, structure and efficiency
Technology that allows you to streamline company documents, to increase productivity and securityby reusing content has already been in existence for several years. It's XML. Thanks to document structuring, it makes the "industrialization" of its future production possible.
XML requires upfront strict formulation and construction of writing. Certain "Word" formatted minds and/or people accustomed to the freedom of immediate writing do not always take easily to it. No more backspacing, correcting, redoing and completing...XML sometimes generates a few obstacles to change for reasons related to a lack of practice and routine.
However, structuring one's content from the start, providing for and integrating all of the fields that must be found in the final version, results ina significant time savings downstream! Not counting the gain in terms of quality ensuring that nothing is forgotten and streamlining presentations and content for all documentation. It's also a complex language that requires technical writers to have specific computer skills in order to master it. That is why today, XML language is part of the training program for technical writers. (See the training list below)
Ready-to-use solutions for the technical writer
That is why the Calenco ,"ready to-use" Saas mode software range, or the Calenco "tailor-made" solution, both developed by NeoDoc, are so well-liked! They make XML technology accessible to all, without special computer skills.
Their interfaces allow an employee who must edit technical, legal, commercial documentation, etc., to be immediately operational. In this way it can reduce production time, ensure consistent layout quality and respect for the charter and the company's brand image, all while publishing on various media (print, digital - desktop computers, tablets...). Thus, he can devote himself exclusively to highlighting content, which he can easily customize based upon use or prospective reader.
He organizes his content to optimize the production of documents in less time, thanks to the reuse of content.
Starting out as a writer, he becomes an architect and manager of technical content. Maybe one way to enhance this strategic career would be to change his title...Because "technical writer" is too simplistic and gratifying in our "Word-molded" minds. We just have to choose one!
Maybe a brainstorming session to enhance this skill that is at the core of the life and production of the company.
Thank you for your suggestions!
Become a technical writer: university training Tentative list, in alphabetical order by city, university training in technical writing available in France (August 2016).
Literature and Language Professional Master - Languages and Communication, Writer-Translator Specialization (French-English) - University of Brittany East, Brest

Master RADI – University of Caen

Master LID – University of Caen

Multilingual technical documentation engineering (IDTM, formerly LCT) – University Blaise-Pascal in Clermont-Ferrand

Communications professional degree, Design and technical writing – University of Limoges

Technical Writing Professional Degree – University of Paris Diderot, Paris VII

Multilingual and Multimedia Documentation Design Professional Master 2(CDMM) – University of Paris Diderot, Paris VII

Master 2MT & C2M – University of Rennes 2, Haute Bretagne, Rennes

Professional writing and multimedia communication (L3) Literary Degree– University of Paris-Est Créteil Val-de-Marne